Authentic Ayurveda Massage & Body Therapies in Lehi & Salt Lake City
Personal Cleansing Retreats
Radiance Retreat
Treat yourself to the self care you deserve with this mini retreat package.
Garshana, Abhyanga, Shirodhara, and Swedena.
The experience begins with a full body Garshana to exfoliate the skin and receive the warm herbal oil of the Abhyanga massage deeper in to your joints and tissues.
We follow the Abhyanga with Shirodhara to completely bring a reset to the nervous system and a hot oil treatment to the hair.
We end the retreat with a Swedena, an herbalized full body steam to open up the pores and gently draw out toxins, leaving you feeling and looking radiantly rejuvenated.
3 Hours   $295
To book a Radiance Retreat please Click Here
2 Day Transformation
Ayurvedic Therapies offer a profound mind-body reset. It's common in the Ayurvedic system to receive multiple treatments per day, multiple days in a row.
With each therapy, more and more balance is restored to the senses, the organs and the systems of the body, total rejuvenation.
Our 2-Day Transformation program offers a combination of Ayurvedic treatments designed to nourish the 5 senses; taste, touch, smell, sight and sound. Last, but not least, the brain receives special therapeutic attention with Shirodhara, a cornerstone Ayurvedic treatment that regulates brain wave activity and guides the mind to a profound reset.
When the senses are clear and nourished and the mind and body have been lulled into deep states of relaxation, the entire being becomes balanced and vibrant. 
---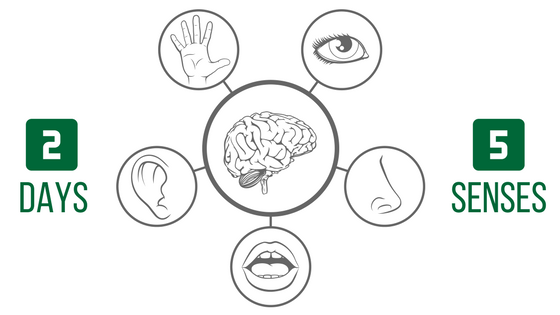 During this 2-day program, detoxification is stimulated through movement of the lymph and the binding of toxins to oils used in Ayurvedic therapies. 
Inflammation is inhibited, endorphin production is stimulated, and organs and tissues are nourished and revitalized by medicinal oils and therapies.
The mind and body reintegrate as flow is re-established in the subtle and physical channels. Relaxation makes space for the mind|body reunion, allowing you to access your essential self more easily.
All of this from just a couple of days of Ayurvedic Therapies? Yes. All of this.!
This is a powerful way to reset over a weekend - or to devote a couple of days to dropping into yourself and rejuvenating deeply.
The Program
*Plan on 3-4 Hours per day for your session.
*DAY 1:
Consultation
Ayurvedic Massage (Abhyanga)
The Blissful Mind Treatment (Shirodhara)
Herbalized Full Body Steam (Svedana)
Oil Pulling/Tongue Scraping instructional and products
*DAY 2:
What a difference 2 days can make!
COST OF PROGRAM:  $555 ($45 Savings)
Call 385.202.3532 or Contact us to schedule a free 15 Min. 'discovery consultation' or to book your 2-day Transformation. 
3 or 5 DAY REJUVENATION RETREAT
This integral aspect of health is starting to get the attention it deserves in the west.
In an age of constant stimulation, those seeking to maintain or rebuild health must accept that you can't drive yourself into a state of wellbeing through sheer sweat and will. Some stress is good for you – but when you are constantly pressured, pushed and overstimulated – your health depends on restoration.
According to a 2015 Nielsen study, people generally turn to gym memberships for restoration. But no amount of exercise is going to help you replenish depleted reserves. Appropriate exercise is important for well being. But it won't rejuvenate your mind/body/spirit in the way that concentrated and effective relaxation and restoration will.
Mindfulness, emotional balance and reinforcement of the mind/body connection are increasingly important in a time when constant connectivity, movement and overstimulation leaves you exhausted and depleted. Ayurveda offers powerful rejuvenation that restores and fortifies vitality at the cellular level and offers tools for ongoing wellness.
Rejuvenation and Relaxation is an area in which Ayurveda shines. The arena of R&R is called Rasayana in Ayurveda's language of origin. Rasayana is a branch of Ayurveda devoted to increasing lifespan and vitality. 
Most people not only fail to recognized the benefits of R&R; they truly don't understand what to do to "get it" or where to go to find it. We're here to lift the veil and show you the way.  Introducing you to profound restoration and relaxation through Ayurveda is our mission.
Through Rasayana, Ayurveda provides a time-tested and time-honored process that offers a truly nurturing and supported break from everyday life, providing deep nourishment and replenishment of mind, body and soul. Rasayana assists in the restoration and maintenance of youthfulness, keeping you fit and balanced physically, emotionally and mentally. In the tradition of Ayurveda, individuals should undergo Rasayana programs regularly to live long and vibrant lives.
Rasayana therapy promotes youthfulness and vitality, improves skin quality, condition and glow, improves sleep, memory and concentration, clears the voice, improves the capacities of the sense organs (eyes, nose, tongue, ears, skin and mouth) builds the body's immunity. Bodily strength is improved and the mind is lulled into a state of peace and calm.
RATES
3-Day Program: $975 ($150 Savings)
5-Day Program: $1575 ($300 Savings)
*Includes daily therapies, daily food, an Initial consultation and daily instructional talks.
Call 385.202.3532 or Contact to schedule a free 1/2 hour discovery consultation to learn more.
An example of a day of Ayurvedic Rejuvenation (after an initial consultation that helps us tailor your program) looks something like this:
We begin Therapies at our Location at either 10 am or 2 pm
Ayurvedic Massage (Abyhanga)
Shirodhara Treatment (Warm Oil Head Treatment)
Break for tea or an Ayurvedic Rejuvenative Beverage
The Soothing Ear Treatment (Karna Purana)
The Sinus Treatment (Nasya)
Lunch or Dinner provided by Seva Ayurveda for take-home
A day of Rejuvenation also includes herbal formulas that will support your well-being, recommended at your initial consultation.
REJUVENATION IN SALT LAKE CITY
Drop beneath the chatter of your mind. Release. Start fresh, with your senses cleansed, your body re-invigorated and your mind balanced and at ease!
Using the ancient rejuvenative principles of Ayurveda, we will administer 3-4 hours of treatments each day that include Ayurvedic Massage and Therapies in combination with cleansing and nourishing teas and foods to offer you a sacred and profound journey into rest and renewal. We make recommendations for Ayurvedic Formulas and Lifestyle changes and practices that may further enhance your wellness.
WHO BENEFITS FROM REJUVENATION?
Rejuvenation Therapies are appropriate in many circumstances, including the following:
After a severe illness
After a cleanse/detox program
At the turn of each season
Nervous exhaustion
Mental exhaustion
Physical exhaustion
Insomnia,weakness, debility, emaciation…
Anemia
Weakened immunity
Chronic fatigue
After age 40
Sexual debility
Infertility
Obesity
Post-Partum
When suffering from chronic digestive disturbances
And more…
If you are looking for a way to unplug, rebuild, increase vitality, refresh and energize; this is the process for you!
Call 385.202.3532 Now to Schedule a free 30 minute Consultation or to Book your Rejuvenation Program!
To see client reviews on Google Click Here!